Last week's Hex alpha patch brought us quite the early winter gift. With a boatload of cards added and another large grip of them changed the alpha meta is sure to be shaken up quite a bit. Just like everyone else I've been pretty excited to start experimenting with some of the new cards and see what I could come up with. There has been one particularly straightforward card which caught my interest and made me want to try out a few different strategies.
Persecute
has been changed since it was
first spoiled
, initially it was a somewhat clunky card which could potentially net you mass removal against a swarm deck. However, now the card has become one of the most efficient removal spells while still also maintaining a high level of flexibility. Blood already has access to Murder which is one of the gold standards as far as removal goes and I suspect this is why persecute is an uncommon as Blood might otherwise have too much powerful removal in limited formats. With that said, rarity isn't the same problem for 60 card decks so now there is definitely potential to overload on removal, which just so happens to be one of the keystones of a midrange deck.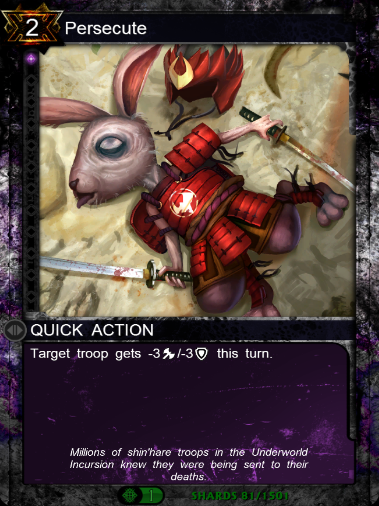 Generally midrange decks try to fill in the gap which falls somewhere in between "agro" and "control." If we're going this route we want to build a deck which has enough removal to stave off a strong early game presented by aggressive troop-based decks, and follow that removal up with a package of efficient and hard to deal with threats which begin to come into play towards the middle of the game. On the flip side, against slower decks we are aiming to put out threats faster than our opponents can deal with them. Starting off with the removal package we have both persecute and murder as already mentioned, we could go further into blood by adding in terrible transfer but that is likely to be too slow for us. Ruby is definitely an option since it has both Burn and Ragefire but both of these might be a little too narrow for us in terms of what troops they are able to deal with. This leads us to Diamond where we find Inner Conflict which fits very well into our game plan, not only is it fairly cheap but it is able to deal with a wide variety of threats which could prove to be problematic for us (I'm looking at you
Fist of Briggadon
). Not only does Diamond give us access to Inner Conflict, but we're also able to add in a number of evasive threats which suit our deck very well.
Without further ado let's look at the decklist: (I excluded links for cards which aren't up to date)
A few other considerations:
-
Xentoth's Inquisitor
: many gems are currently bugged, once things are stabilized I'd include this along with the discard major blood gem in place of Corpse Fly
-Vampire King: once the king is added to the game this becomes the perfect deck for him
-Relentless Corruption: decent sideboard tech to bring in against slower decks
-Frost Wizard: if our opponents are relying on escalation then bringing this silver bullet in from the sideboard is a pretty easy decision

It seems like the tuning phase of alpha is still ongoing as is apparent with Murder (now has 2 blood threshold) and Inner Conflict (now costs 3 resources). In which case don't be surprised if some of these cards change dramatically in another two weeks' time. After playing the deck for roughly 20 games or so I would say that, while very strong, Living Totem often feels somewhat clunky and we may end up cutting a copy or two. The miser copy of Soul Marble is in there as a test more than anything else. This seems like a good deck with which to evaluate its strength but it is also not a card that you want to draw multiple copies of. Finally, King Gabriel is very resilient but is sometimes unable to quickly closeout games, currently this resiliency has worked very well for me but moving towards something a bit more explosive is definitely an option I will continue to consider.
Midrange decks often attack their opponents from a somewhat sideways angle, they're able to push this even further after sideboarding. That's not to say that it doesn't come with some weaknesses, evasive spellshield troops like Storm Colossus dodge our removal and can often turn the game around if the opponent is able to stabalize. Furthermore, there is definitely potential for a powerful deck that includes no troops which in turn makes many of our cards into dead draws.
I hope you all enjoyed the article. Sorry that I haven't had nearly as much time to write / vlog about Hex this month, or even really play it for that matter. Though in the time I have had to log in I've been blown away by the outstanding appreciation I've been given from all of the folks tuning in. Thanks a bunch everyone! On that note I'll leave you with a quick video of this deck in action…
Less Fail, More Funktion